Kaplan Orthodontics is an Invisalign Diamond + Provider
Invisalign takes a modern approach to straightening teeth, using a custom-made series of aligners created for you and only you. The Invisalign aligner trays are made of smooth, comfortable and virtually invisible plastic that you wear over your teeth. Wearing the aligners will gradually and gently shift your teeth into place, based on the exact movements Doctor Kaplan plans out for you.
There are no metal brackets to attach and no wires to tighten or change. You just pop in a new set of aligners every week until your treatment is complete.
You'll achieve a great smile with little interference in your daily life; you can still eat and drink what you want. With removable aligners, you're still able to brush and floss normally to maintain healthy gums and teeth.
Please note that more complex problems and significant bite improvements still require traditional braces. The best part about the whole process is that most people won't even know you're straightening your teeth.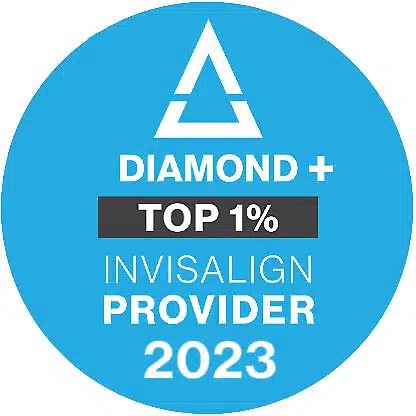 Why Choose Invisalign?
Learn why to choose Invisalign at Kaplan Orthodontics in Dunwoody GA.
Faster treatment: With weekly aligner changes, you're on your way to the smile you want even faster. Depending on your response to treatment, particularly in mature adults, we may consider longer periods between aligner changes.
Proven results: SmartTrack® material and SmartForce® features are clinically proven to improve control of tooth movement with Invisalign clear aligners.
Better fit: Aligners made from SmartTrack material are comfortable, fit well, and are easy to put on and take off.
Effective: Invisalign clear aligners can treat a wide range of teeth-straightening conditions, including crossbites, crowding, open bites, gapped teeth, overbites, and underbites.
Virtually invisible: Most people won't even know you're going through treatment, because Invisalign aligners are virtually invisible!
Comfortable: Invisalign clear aligner trays are not only smooth and comfortable to wear, but they're also removable. That means you can continue doing all the things you normally would, from brushing and flossing to eating whatever you like.
Convenient: Invisalign treatment is ideal for your busy schedule, since you only need to visit our office every six weeks.
Made Just for You
Using advanced 3-D computer-imaging technology, Invisalign formulates your complete treatment plan, from the initial position of your teeth to the final desired position.
The next step is a series of clear aligners are custom-made for your teeth, they will move them little by little. Each aligner is worn for approximately one week before being replaced by the next in the series until the final position of your teeth is achieved.
Doctor Kaplan will determine your Invisalign treatment time based on your specific needs.
Please note that because they are removable, patient compliance is extremely important with aligners. Invisalign is a wonderful option for many patients, however, it's not ideal for every case.
Find out more at www.invisalign.com.