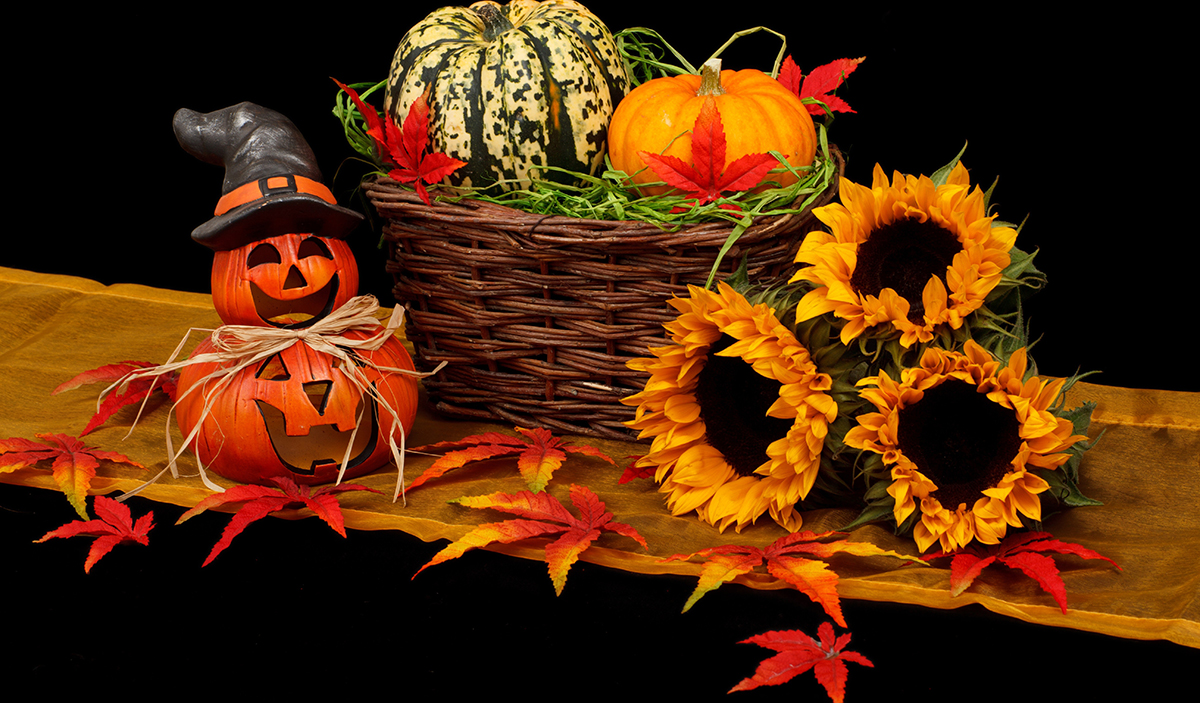 Halloween Holiday Guide
You may not know it, but October is National Orthodontic Health Month, with orthodontists around the country taking extra time to educate people about the benefits of orthodontic treatments and how to get a healthy smile. It also happens to be the month we celebrate a little holiday you may have heard of — Halloween! If you're an orthodontic patient, you may be feeling a little anxious about how to navigate your way through bowls and bags full of candy while wearing braces. Halloween is all fun costumes and fall festivals until somebody breaks a bracket or bends a wire, right?
Kaplan Orthodontics wants you to be able to focus on things like winning a costume contest or counting your candy, not waiting around for an appointment to fix your appliance, so we've put together this handy guide on how to handle Halloween with braces. Below you'll find a list of candies to indulge in, which ones you should avoid, some simple tips on keeping your teeth healthy, and even a couple of spooky treats you can whip up at home!
Candy to keep in the crypt
One of the scariest things about Halloween is all the sticky, chewy candy people like to hand out. These are the worst kinds of sugary sweets for anyone wearing braces, because they stick to the braces and brackets, and can even pull parts off. Chewing on hard candy also puts a huge amount of pressure on your braces, which can often lead to broken brackets and bent wires. And while popcorn might look safe and fluffy, those kernels love to launch sneak attacks to get caught in between teeth and cause uncomfortable inflammation.
Remember that every time a bracket or wire has to be repaired or replaced, it sets your treatment back a step, which can add to your total time in braces. To keep your braces intact and your treatment plan on track, take care to avoid the following treats:
Caramel

Bubblegum

Hard Candy

Taffy

Licorice

Nuts

Jelly Beans

Candy Corn

Popcorn

Chewy Candy

Candy Apples
Candy that isn't creepy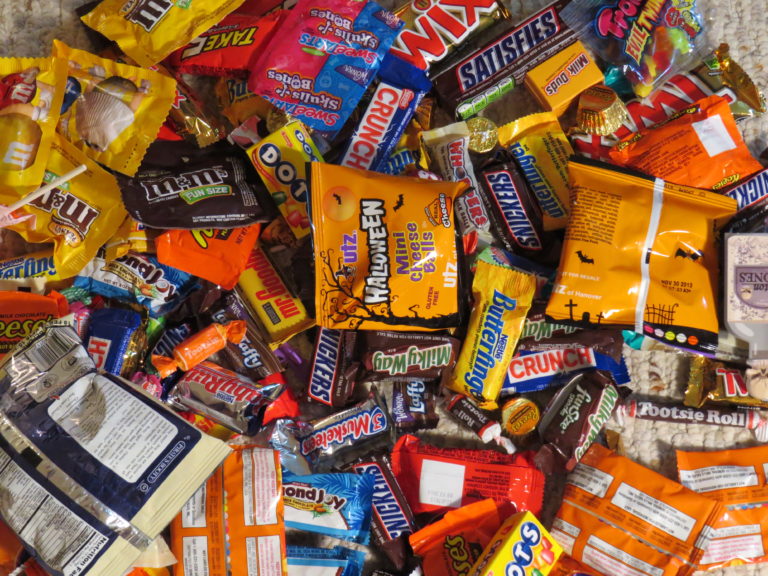 Being in braces doesn't have to mean sitting off to the side while everyone else empties their stash. There are plenty of treats you can still enjoy even with braces. Generally, anything with soft chocolate is a good choice. This includes lots of classic candy, such as:
Reese's Peanut Butter Cups

Kit Kats

Plain M&M's and Reese's Pieces

3 Musketeers

Oreos

Hershey Bars & Hershey's Kisses
Avoid anything with caramel or nuts, and be aware that biting into bigger sized candy bars can damage the braces on your front teeth — stick to fun-sized bars and you should be good to go! Even with the fun-sized stuff, though, you still have an increased amount of sugar hitting your teeth. Let's take a quick look at some basic braces care to keep your teeth clean and your smile healthy.
Boo-tiful Braces Care
Frightfully tasty treats
Halloween doesn't have to be all about the candy! While we're not going to convince you these recipes are more fun than plowing your way through all your trick-or-treating loot, they are delicious desserts you can whip up in no time and share with all the ghouls and ghosties in your life this Halloween. As an added bonus, they're even good for you!
Boo-Nana Ghost Pops
(recipe thanks to www.momskitchenhandbook.com)
Ingredients
3 bananas
¾ cup vanilla yogurt (avoid using Greek yogurt)
Mini chocolate chips
6 wooden popsicle sticks
Instructions
Line a 9-inch baking pan with parchment or waxed paper.

Peel the bananas and cut them in half crosswise at a slight angle. Insert a popsicle stick into the cut end of each banana and push it about halfway up.

Put the yogurt into a small bowl. Hold onto the pops by the popsicle sticks and roll each banana in the yogurt to coat the exterior (tilting the bowl so the yogurt pools on the side makes this easier). Let excess yogurt drip back into the bowl (you can run your finger along the back of the bananas to remove the excess). Lay the pops in the baking pan. (Expect to have some leftover yogurt to snack on while you wait for these to firm up!)

Push the pointy top of 2 chocolate chips into each banana to make the eyes of the ghosts.

Put into the freezer to firm up, at least 3 hours.

Remove pops from the freezer and use a knife to trim away any yogurt that pooled and froze along the sides of the banana. Serve straight from the freezer.
Note: Once pops are frozen, store them in a resealable bag or covered container in the freezer.
Candy Corn Fruit Cocktail
(adapted from www.familyfreshmeals.com)
Ingredients
1 can pineapple chunks, drained
1 can mandarin oranges, drained
Cool Whip
Candy corn
Instructions
In a clear glass, layer pineapple, oranges, and Cool Whip. Garnish with a few pieces of candy corn. Serve immediately, or chill until ready to serve.
Care to share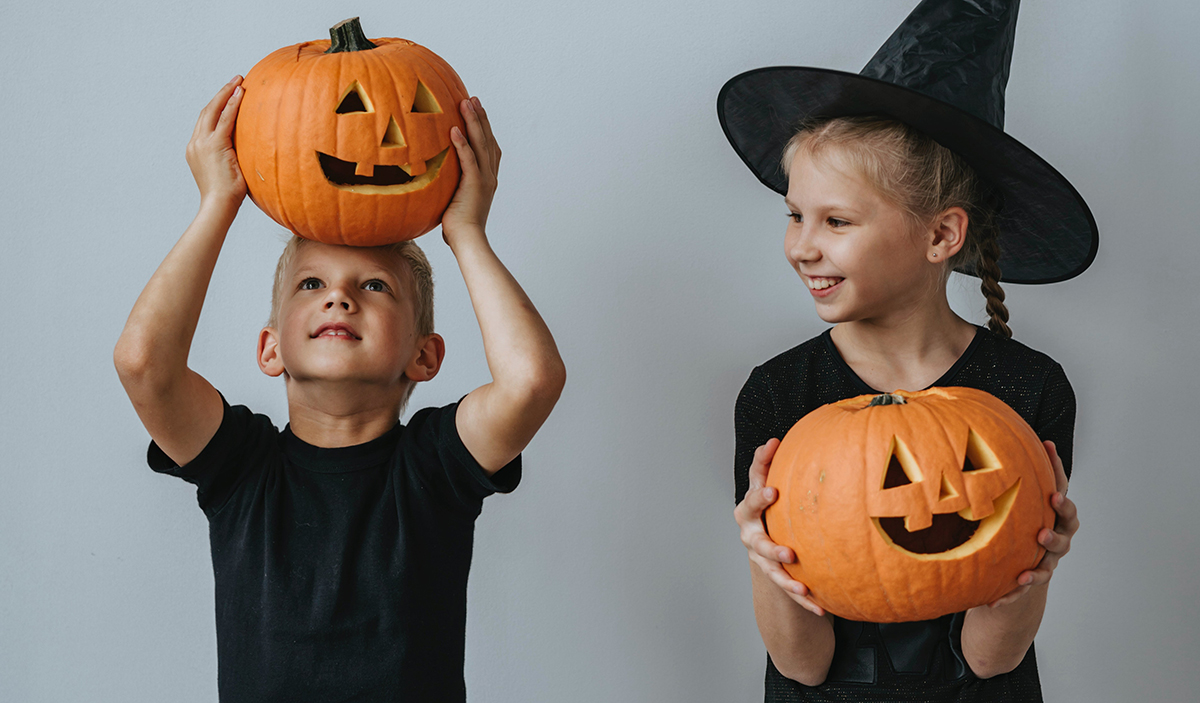 Wondering what to do with all the candy you can't eat? If you don't like the idea of wasting treats that aren't suitable for braces, why not donate it to a good cause? Organizations like Operation Shoebox, which packages up candy to send to troops overseas, or the Ronald McDonald House, which passes out candy to visiting patients and families, are an excellent way to share your bounty.
Happy Halloween from Kaplan Orthodontics!
Remember that if you ever have any questions or concerns, including worries about navigating Halloween candy with braces, our caring Kaplan Orthodontics team are just a call or email away. Whatever your plans for Halloween, we wish you a safe and happy holiday!