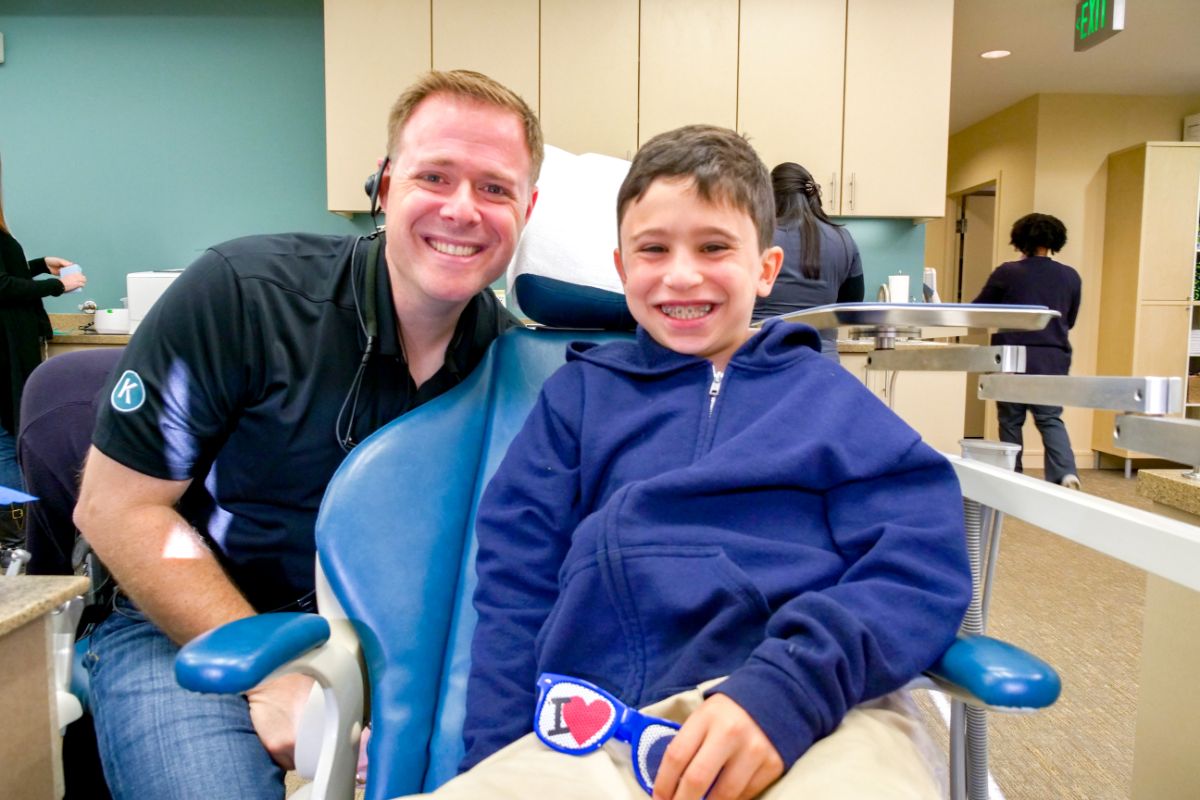 Halloween Survival Guide to Braces
October brings us crisp fall mornings, beautiful foliage, and all the fun costumes and celebrations that come with Halloween. But if you have a child in braces, it can also come with some anxiety. Here at Kaplan Orthodontics, we often hear from worried parents who just aren't sure how to help their child navigate all those bowls and bags of candy successfully. The food restrictions that come with braces can make things a bit more trick than treat, but that doesn't mean they have to miss out on all the goodies the holiday has to offer! With a little patience, planning, and creativity, your child can enjoy Halloween without worrying about broken brackets, bent wires, or scheduling emergency appointments.
That's where our Halloween Survival Guide comes in! We make sure you know which candy is braces-friendly, which sweets to avoid, how you can use up all that leftover candy, and we even include a simple tip or two for keeping braces clean. Keep reading below for our best tips on getting through Halloween with your child's braces – and smile – healthy and intact.
Candy to keep far away from your child's braces
For orthodontists, one of the scariest things about Halloween is all the sticky, chewy candy people love handing out! They stick to brackets, bands, and wires, and in some cases, they can even pull parts off. Hard, crunchy candy is almost as bad, as it puts a huge amount of pressure on braces, which can lead to broken brackets or bent wires.
Parents should always be aware that every time we need to repair or replace a bracket or wire, it sets the orthodontic process back a step. This can add to the total time that your child is in braces. Ensure their treatment plan stays on track by avoiding any of the following treats:
caramels
bubblegum
hard candy
taffy
licorice
nuts
jelly beans
candy corn
popcorn
chewy candy
candy apples
caramel apples
We know that this may seem like a fairly extensive list, but there are still lots of ghoulish goodies that kids in braces can enjoy. Undergoing orthodontic treatment doesn't have to mean your child is stuck on the sidelines watching as other children happily dig through their bags and buckets!

Candy that gets our seal of approval
There are plenty of braces-friendly options for trick-or-treaters, and soft chocolate is one of the best. In fact, most candy bars in general are a good choice for orthodontic patients, as long as they don't contain any caramel or nuts. This includes many classic candies like:
Biting into bigger sized candy bars has the potential to damage the brackets adhered to your child's front teeth, so we recommend breaking any full-sized items into smaller pieces. Luckily, Halloween is full of mini- and fun-sized bars!
Creative ways to get rid of any leftover candy
Most of us will end up with way more candy than they need at Halloween, especially if you have more than one child hitting the trick-or-treat trail. Here are a few of our favorite ways to clear your house of all that excess sugar (and any lingering temptation!)
Switch it out
Having a "Candy Fairy" or "Switch Witch" that comes on Halloween night is a fun way to get kids excited about what can sometimes be a frustrating experience. Have your child leave all the candy they can't eat out before bed, then swap it out for a book, toy, or other small gift while they're sleeping.
Sharing is caring
Donating unwrapped candy is a really simple way to brighten someone's day! Your child will feel proud to do something kind for others, and putting a smile on someone else's face can take the sting out of not being able to indulge in some of their favorite Halloween treats. There are many
charitable organizations that will accept donations of unopened candy, including:
Operation Gratitude, which sends care packages to U.S. troops stationed in overseas and first responders at home. They love it when kids include letters and pictures with their donation, so encourage your child to write a quick note or draw a picture to help put a smile on a soldier's face.
Soldiers' Angels are similar to Operation Gratitude, but on a smaller scale, and they do a "Treats for Troops" event annually. You can click here to find a donation drop-off point, or even register to start a drive of your own!
The Ronald McDonald House provides a place for families to stay together when a child is seriously ill, and most of their locations will accept unopened Halloween candy for their resident families. Check here to find your local chapter. We do recommend calling ahead to find out the rules for dropping off candy before you head their way, though.
If you'd prefer to keep things a little closer to home, your local shelters, food pantries, and nursing homes will often accept unopened candy donations for their residents and guests. You can make this even more special by including notes or drawings from your children.
Remember basic braces care
With all the excitement that happens around Halloween, it can be easy to skip a brushing session or two. However, your child should actually be taking extra care with their teeth during this time. Even if the only candy they're eating is orthodontist approved, the increased amount of sugar hitting the teeth can still be harmful if it's not removed promptly and effectively.
Remind your child that good oral hygiene will help prevent cavities as they make their way through their Halloween haul! That means brushing at least twice a day, drinking lots of water to keep sugar from sticking to the teeth, and flossing every night before bed. This is the perfect time to try out an oral irrigator if you haven't already – the steady stream of water helps to wash debris away from the braces and teeth.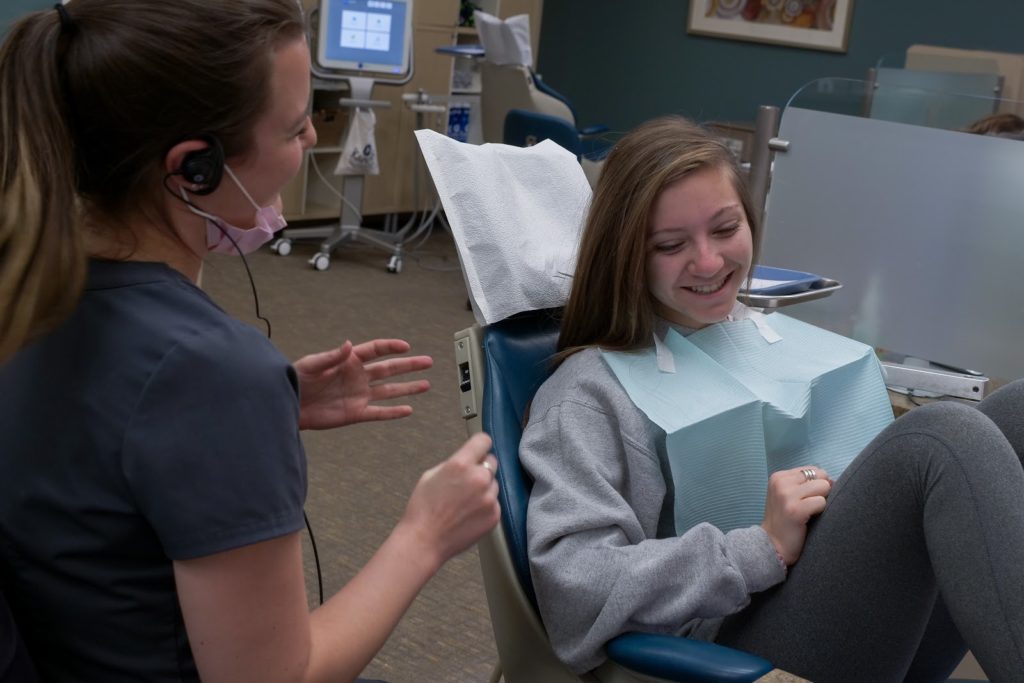 We're hopeful that this guide has helped reassure you that your child being in braces doesn't have to take any of the fun out of Halloween! If you're still feeling unsure, get in touch with our office. We're always here to answer any questions or discuss any concerns you have about your child's treatment plan, and believe that getting the best results is a team effort. Whatever your family has planned for Halloween this year, Kaplan Orthodontics wishes you a safe holiday full of memory-making and healthy smiles!