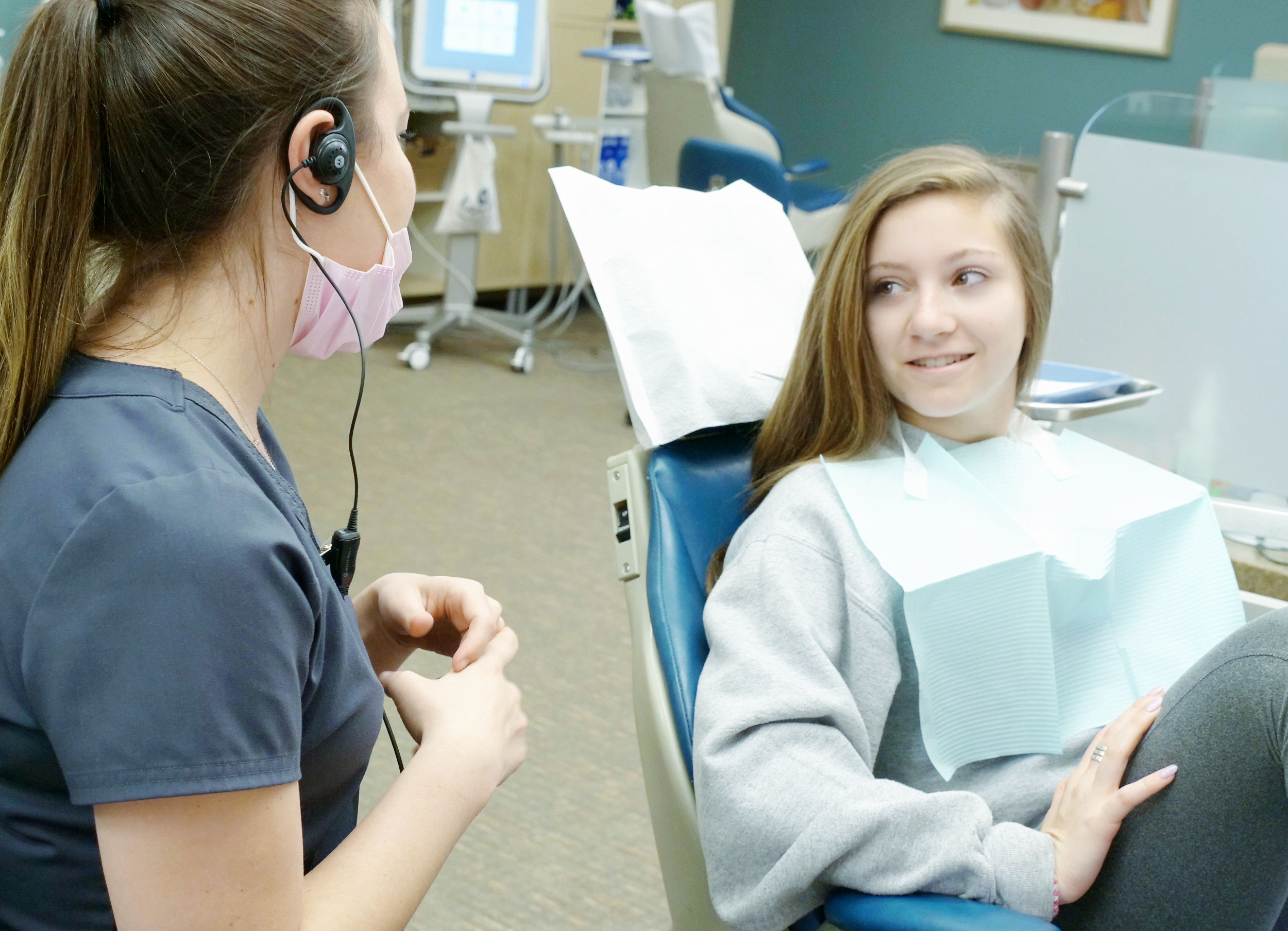 My first adjustment appointment!
I was so excited as the 6-week mark arrived and a reminder alert came up on my calendar to have my wires changed.
By this point I had totally mastered eating (and general life) with my braces, My handbag is always stocked with a toothbrush, toothpaste, wax & soft picks, I have come to terms with not eating crunchy chips and really trying hard to avoid soda (I have to confess I have had some diet coke but I drink with a straw & make sure I brush straight after….) I am very aware of eating food with too much color (beets for example, I don't want the glue behind my braces to stain purple so I am super careful!)
I do have to confess I popped out my lower wire on the back left, I was eating an apple and hadn't quite cut it small enough, there was too much skin on the piece I was eating and I pressed to hard biting on my back teeth. Out it popped. Lucky for me it happed while I was at work, so I had one of our awesome assistants pop it back in (and took the opportunity to remind me about cutting my food smaller!) but if this had happened when I wasn't at the office, I always have my trusty wax in my handbag, I would have stuck a piece on the end and waited until I was next at work!
I haven't quite mastered my braced filled mouth smile!! I was a big, full teeth smiler but it doesn't quite feel right with braces, there's almost too much mouth on show now!! I have definitely filled my cell phone camera roll with a LOT of selfies trying to master my smile! This is a work in progress. Stopping at traffic lights is now for practicing my smile in the mirror!
Most of my friends have now seen me with my braces and have stopped asking a bunch of questions! (Or laughing) my kids are used to them and try to look out for me, they are such sweeties, they like to tell everyone that their "mommy has braces so she cant eat hard food" and they like to check up on me while I am eating and remind me that I can't eat hard vegetables,or chewy candy! The latter they would gladly help me out and take it off my hands!
So life as an adult with braces was going well! So it was time I had my first wire change…OW again!
I had my upper wire changed to a stronger wire than the lower. The upper teeth have moved really well during the first 6 weeks but there are a few stubborn lower teeth that are being slow! But they did change both so I was definitely sore! For the 3 days following my new wires it was back to the Tylenol, soups & soft food rotation (no salads) for me! Luckily for me I love soup and plus it is the winter and super cold outside so a yummy warm soup is always welcomed.
Here is a recipe for 2 of my favorite soups to make!
Butternut Squash Soup:
This is a super easy soup to make,
Ingredients:
1 celery stalk diced
1 carrot diced
1 onion chopped
2 butternut squash (or if you are near a trader joe – for ease – buy the bags of ready cut butternut squash!) for a total of 4 cups diced
4 cups low sodium Chicken Stock
Salt & pepper to taste.
How to make it:
Heat 2 tbsp oil in a large soup pot.
Add carrot, celery and onion.
Cook until vegetables have begun to soften and onion turns translucent, 3 to 4 minutes.
Add the butternut and stock to the pot and bring to a boil then turn down the heat to a simmer.
Let it simmer for 25-30 minutes.
Check with a fork if the vegetables are cooked through, they should slide off the fork.
When all the vegetables are soft, drain some of the liquid (but keep it in a bowl incase you want to adjust a consistency)
Using a hand blender, puree the vegetables, adding the liquid back in a little at a time and stirring after each spoonful, until desired consistency is reached.
Serve it hot
Optional adjustments:
¼ cup heavy cream
1-teaspoon dark brown sugar

Pinch of grated nutmeg;
Stir in these 3 ingredients at the end just before serving to transform the soup to a more creamy taste. 
Tomato – Basil Soup.
Ingredients:
2 tbsp Oil
1 onion, chopped
2 carrots, chopped
 2 celery stalks, chopped
 3 cloves garlic, chopped
 1 (28 ounce) can tomato sauce
 1 (8 ounce) can tomato sauce
 1 1/4 cups chicken broth
 2 tablespoons chopped fresh basil
 1 tablespoon chopped fresh oregano
 Salt and ground black pepper to taste
 1 1/2 cups heavy whipping cream
How to make it:
Add oil to a large pot over medium-low heat; cook and stir onion, carrots, celery, and garlic until vegetables are tender, about 10 minutes.
Stir in both cans of tomato sauce, chicken broth, basil, and oregano.
Increase heat to medium and simmer until soup is reduced, 10 to 20 minutes.
Pour soup into a blender no more than half full. Cover and hold lid down; pulse a few times before leaving on to blend. Add cream.
Continue to puree in batches until smooth, transferring creamy soup to another pot.
Heat soup over medium-high heat until hot, about 5 minutes more.
Note: keep a little extra basil and cream on hand to add at the last minute as a garnish!
Happy cooking & have a great week!
xoxo
Alex