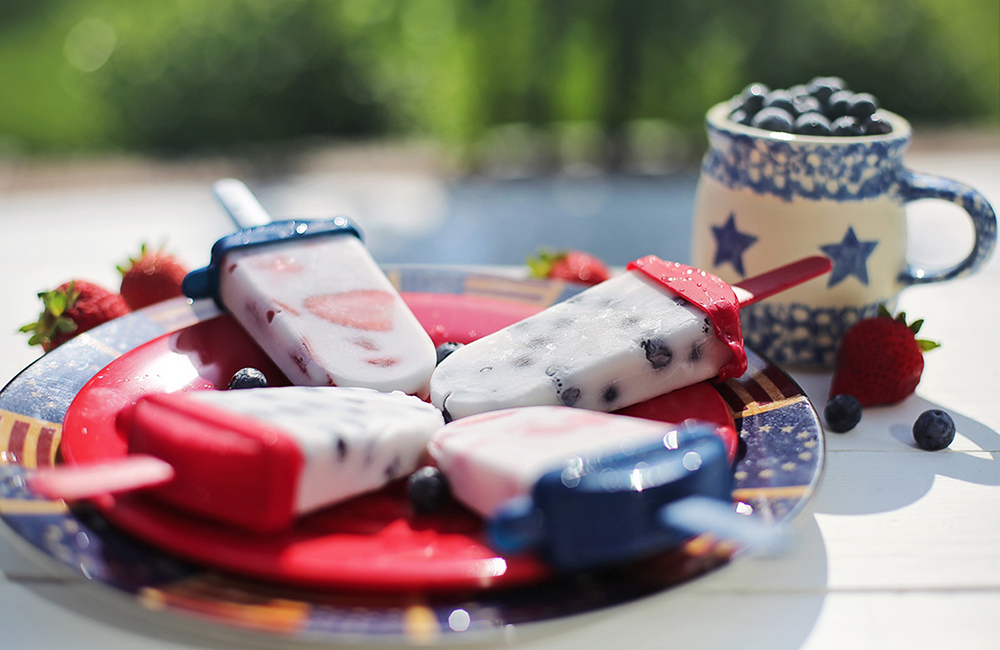 10 Easy Summer Treats Your Teeth Will Love
Here at Kaplan Orthodontics, we know that one of the hardest parts of having braces is not being able to indulge in some of your favorite foods. In order to avoid damaging your braces and your teeth while wearing braces, there are limitations on what you can eat and snack on. This can feel really discouraging and sometimes even isolating, but it doesn't have to be all bad!
With summer just around the corner, there's no better time to to explore some braces-friendly treats sure to beat the heat.  We've collected recipes for 10 Easy Summer Treats Your Teeth Will Love, and can't wait to share them with you!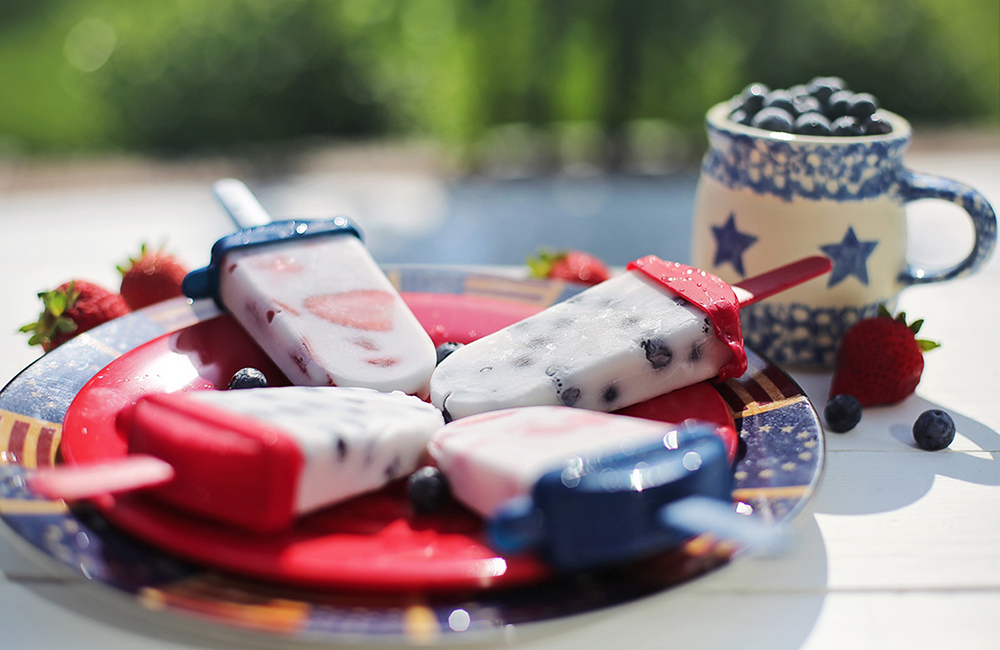 1. Fresh Fruit Popsicles
Ingredients:
2-3 kiwis, peeled and sliced
1 pint fresh strawberries, sliced
2-3 tangerines, peeled and sliced
1 pint fresh blueberries
1 container coconut water
popsicle mold
popsicle sticks
Directions:
Add all your cut up fruit to the popsicle mold, but don't fill them too full — you don't want the fruit packed in too tightly, so it's ok if there are spaces.
Cover the fruit with coconut water until it reaches the top of each popsicle mold. Insert the popsicle sticks into the center of the mold.
Freeze the molds overnight, or until solid. Once frozen, remove from the mold and serve with a smile!
Tip: To get the popsicles to separate from the mold easily, run the plastic under warm water until they slide out easily.
2. Chocolate Peanut Butter Banana "Nice" Cream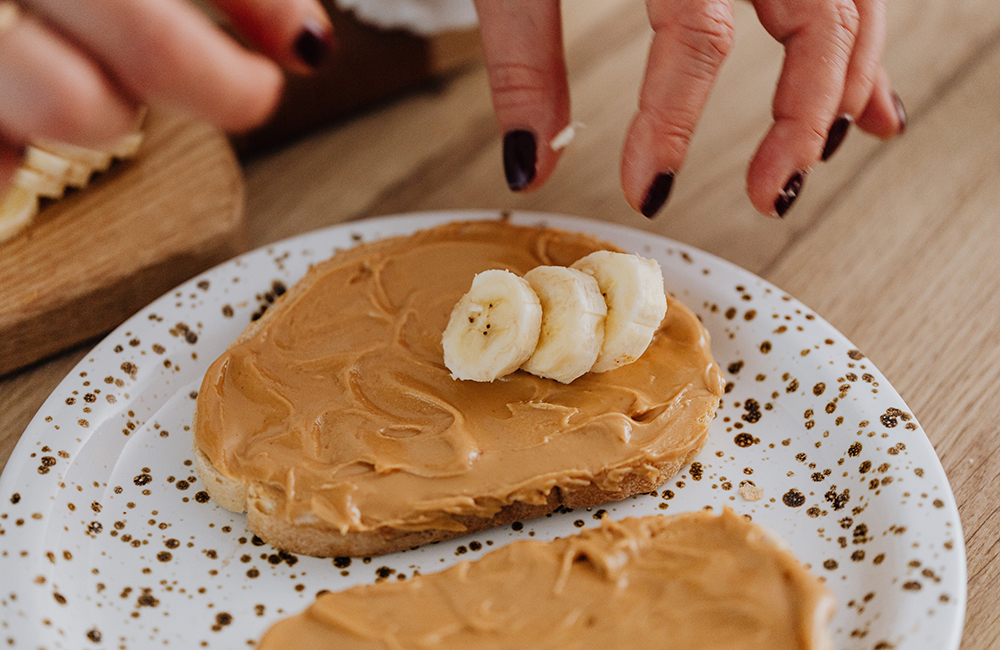 Ingredients:
2 bananas, peeled and frozen
1 tablespoon creamy peanut butter
1 tablespoon cocoa powder
Directions:
Cut the bananas into chunks and put them in a food processor or heavy duty blender. Blend until smooth.
Add your peanut butter and cocoa powder, then blend until smooth.
Tip: This recipe works best with bananas that are very ripe, since the riper a banana is, the sweeter its natural flavor!
3. Strawberry Peach Sorbet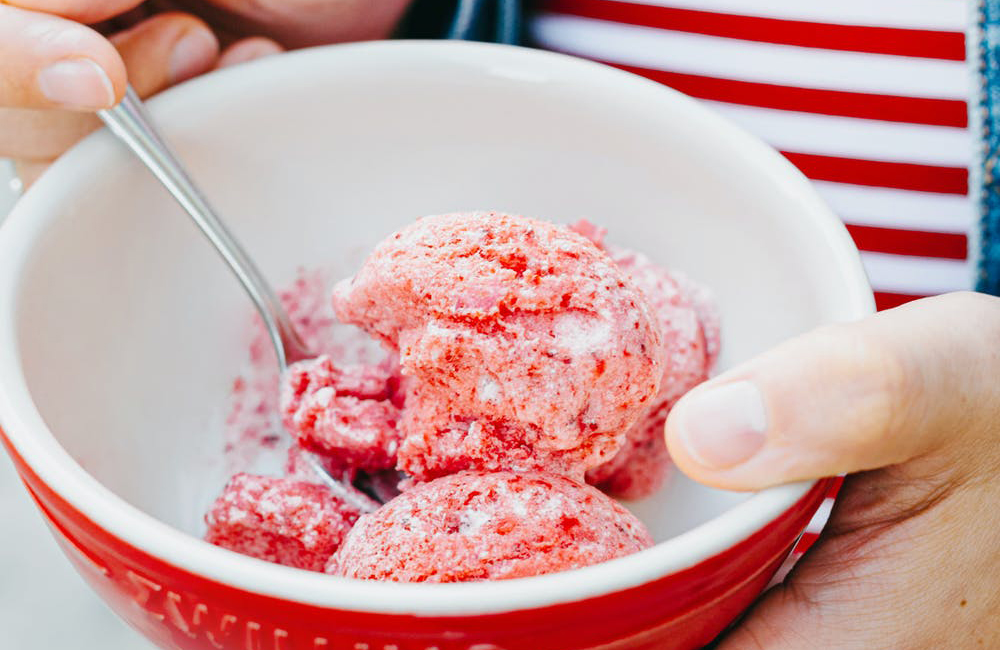 Ingredients:
1 medium peach, frozen, sliced
1/2 cup strawberries, frozen, whole
1/4 cup Greek yogurt, plain, full fat
Directions:
Combine all ingredients in a blender, and blend until smooth.
4. Pineapple Whip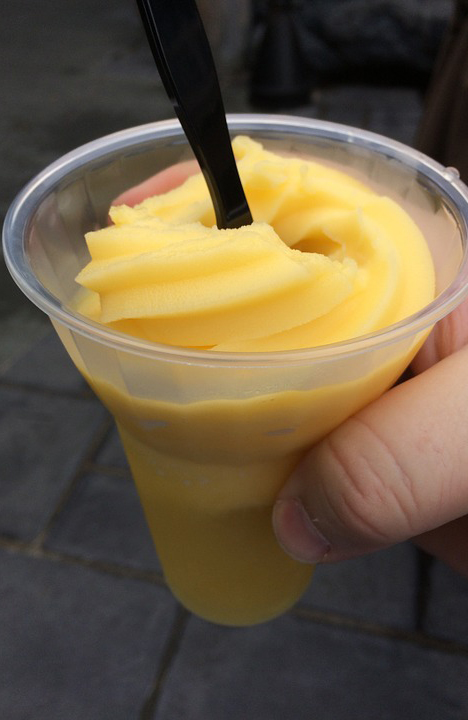 Ingredients:
1 fresh pineapple, peeled, cored, cut into chunks and then frozen
½ cup canned coconut milk (more if needed)
1-3 tablespoons of honey, maple syrup, or agave nectar (adjust to taste)
Directions:
Peel, core and cut one fresh ripe pineapple into chunks. Spread the chunks on a lined baking sheet and freeze for at least 24 hours.
Place the frozen pineapple chunks in a food processor with the ½ cup of coconut milk. Process until the mixture is smooth and creamy. Add more milk if needed to achieve a smooth consistency.
Taste the mixture and add preferred sweetener to your liking, then process once more to incorporate the sweetener. Serve immediately!
5. Easy Peach Frozen Yogurt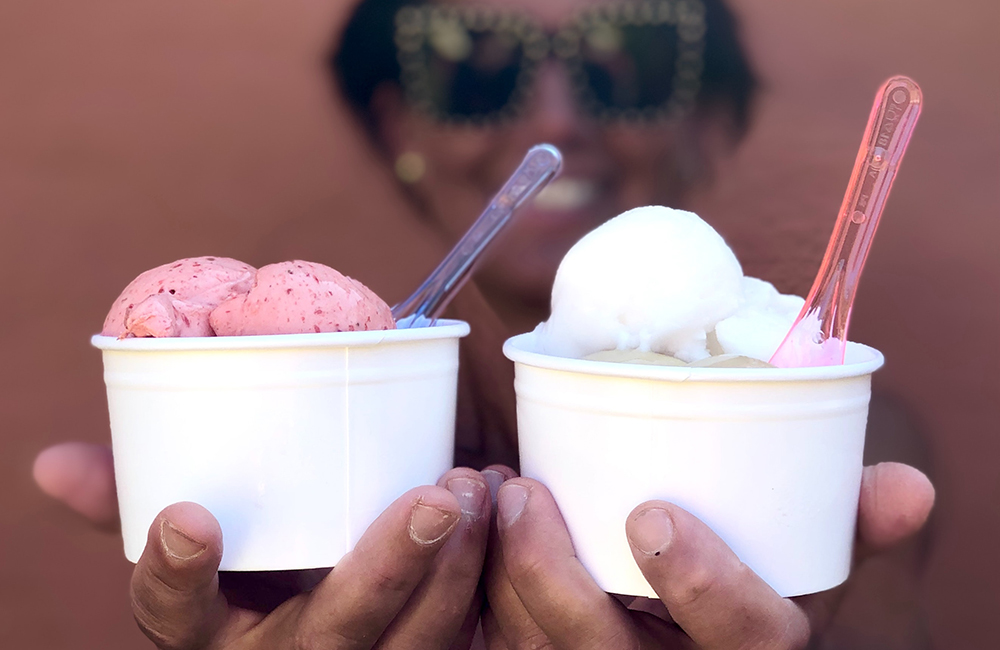 Ingredients:
1 16 oz bag of frozen peaches
1 cup vanilla Greek yogurt, full fat
Juice from 1/2 a small lemon
2-3 tablespoons honey
Directions:
Add all ingredients to a heavy duty blender or food processor. Blend until you achieve a smooth and creamy consistency.
You can serve it right away and it will have the consistency of soft serve ice cream, or you can chill it in an 8×8 pan in the freezer if you'd prefer a more scoopable texture.
6. Fresh Fruit and Cheese Kabobs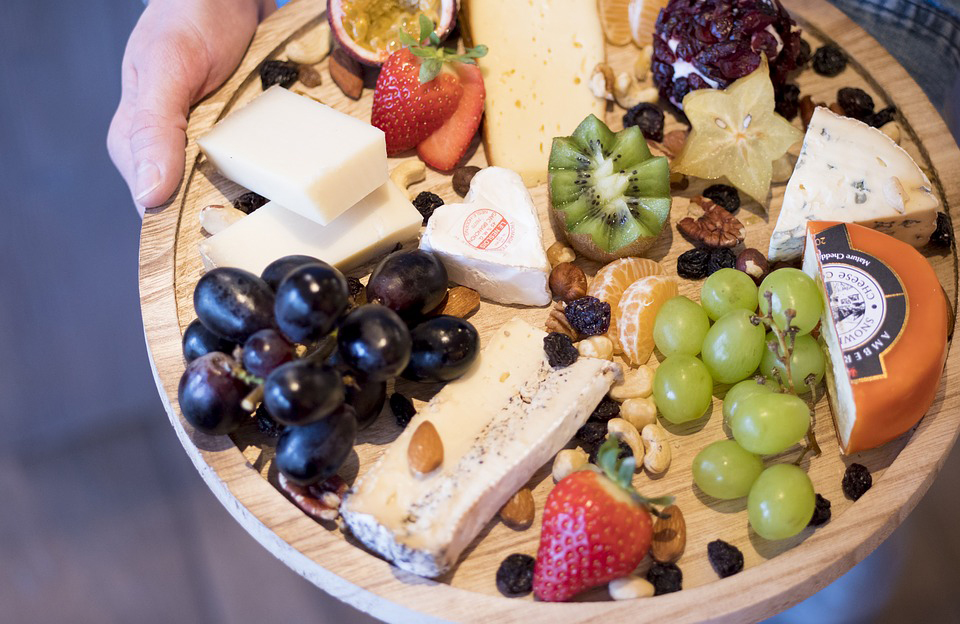 Ingredients:
Any fresh fruit you like! You can use pineapple, watermelon, cantaloupe, grapes, or mango. For berry lovers, try blueberries, blackberries, raspberries, and strawberries.
Cheddar cheese, cut into small squares
Wooden skewers
Directions:
Alternate fruit and cheese from top to bottom of skewers. Enjoy!
7. Berry Watermelon Fruit Salad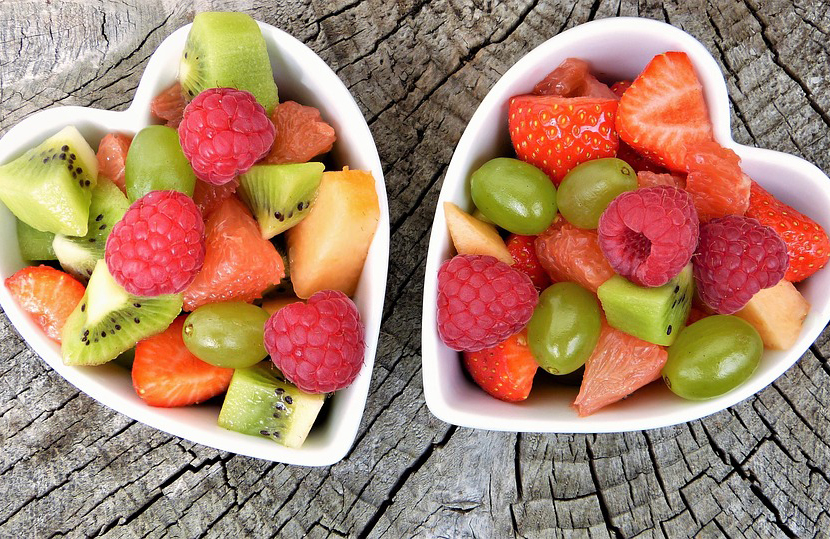 Ingredients:
4 cups watermelon, cubed
1 pint strawberries, sliced
1 pint blueberries
1 pint raspberries
1 pint cherries, pitted and halved
1/2 pint blackberries
a squeeze of fresh lime juice
Directions:
Cut all the fruit into bite-sized pieces. Add to a large mixing bowl, and gently toss. Top with a squeeze of fresh lime juice. Chill before serving.
8. Bright and Sunny Macaroni Salad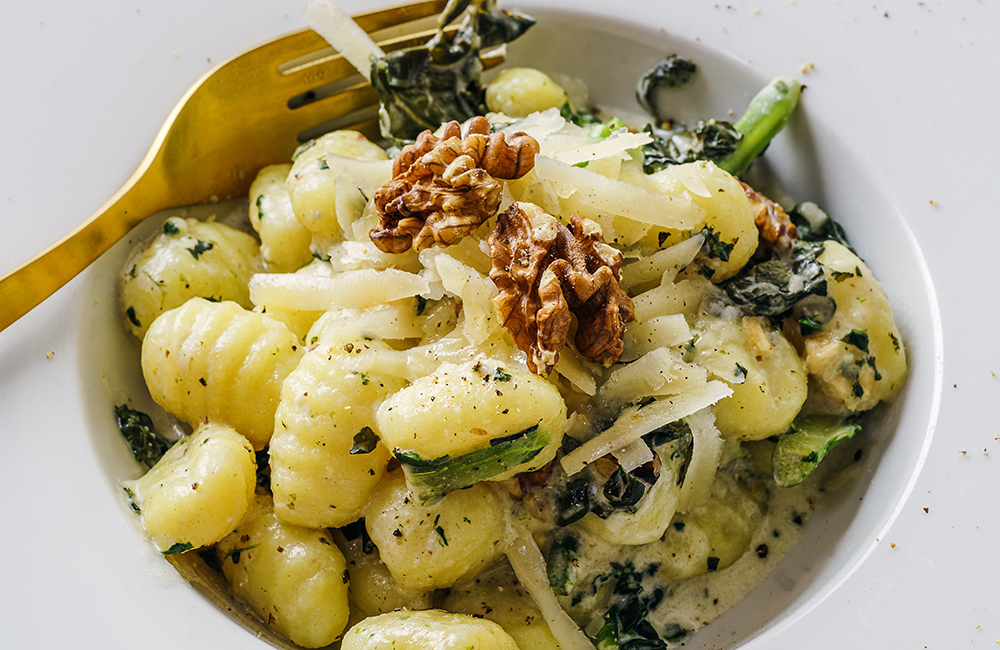 Ingredients:
8 oz. dry elbow macaroni
1/2 cup mayonnaise
1/2 cup plain Greek yogurt
1 1/2 tablespoon white wine vinegar
2 teaspoon dijon mustard
2 teaspoon honey
Salt and freshly ground black pepper
2 hard boiled eggs, peeled and chopped
1 cup diced red bell pepper
1 cup carrots, diced
3/4 cup diced celery
1/4 cup diced red onion
1 tablespoon minced fresh parsley
Directions:
Cook macaroni in salted water according to directions on package. Drain and rinse with cold water until completely cool. Let drain very well.
In a medium mixing bowl, stir together mayonnaise, Greek yogurt, vinegar, mustard, honey, and season with salt and pepper to taste.
Add well-drained macaroni to a large mixing bowl along with eggs, bell pepper, carrots, celery, and onion.
Pour dressing over the top, add in parsley, and toss mixture to evenly coat. Serve immediately, or store in the refrigerator for up to 1 day.
9. Strawberry Lemonade Smoothie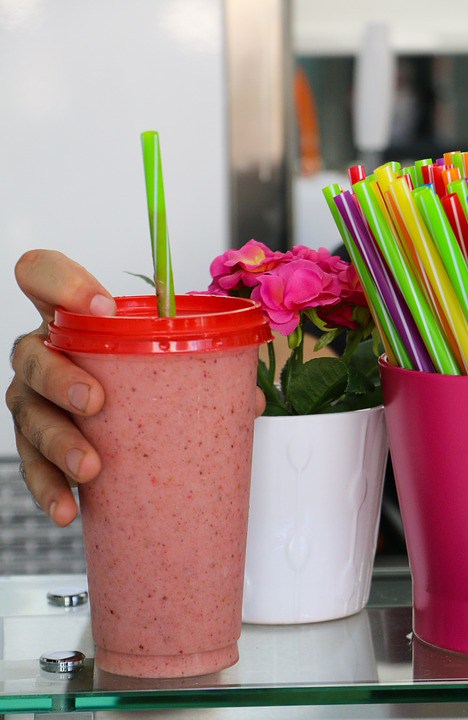 Ingredients:
1½ cups frozen strawberries
1½ cups good quality lemonade
½ cup vanilla or strawberry yogurt
Directions:
Add all ingredients to a blender. Blend until smooth, scraping the sides of the blender as necessary. Serve immediately or refrigerate or freeze for later.
This next recipe isn't quite as healthy as the rest, but everybody deserves a little splurge now and then, and who can resist a summer slurpee?
10. Kool-Aid Slurpee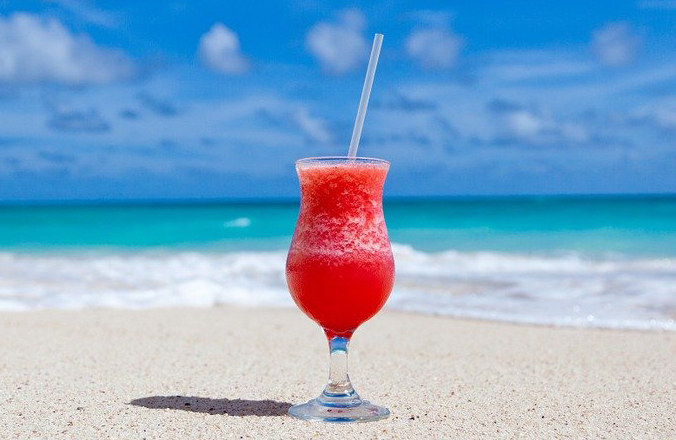 Ingredients:
1 package of unsweetened Kool-Aid drink mix, any flavor you like
2 cups cold water
1/2 – 3/4 cup sugar
4 cups ice
Directions:
Blend together all ingredients. Add more ice if your mix needs to be a bit thicker. Serve immediately.
Keep cool with Kaplan Orthodontics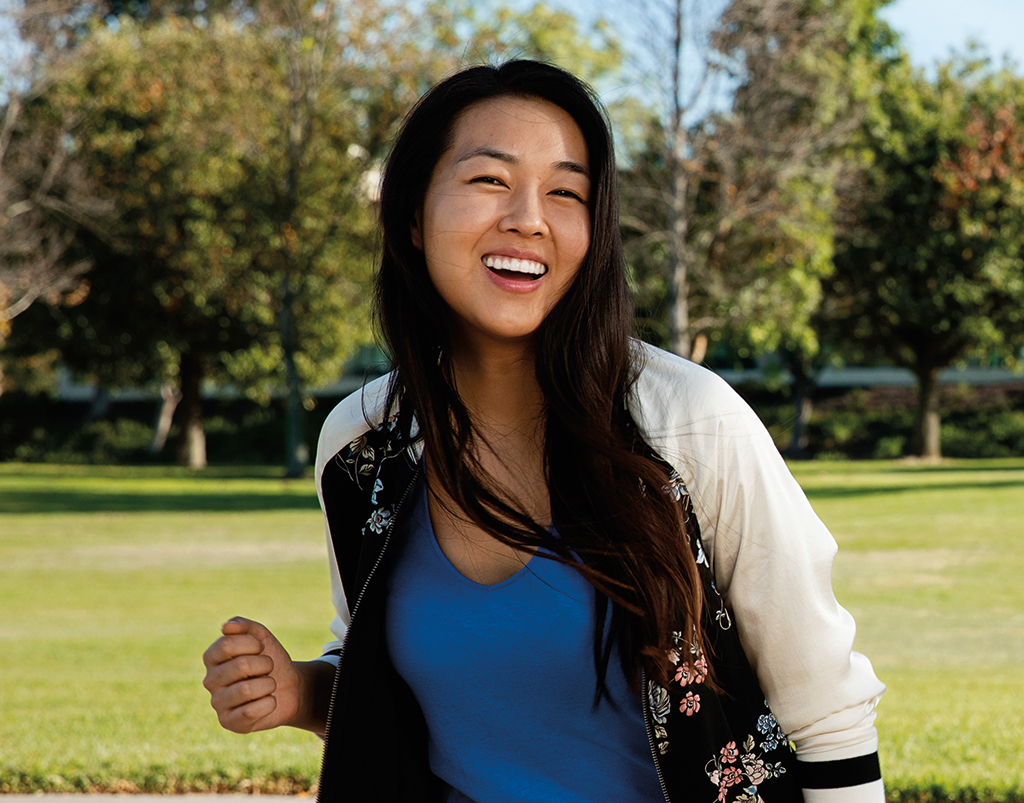 Remember that even though school may be out for the summer, Kaplan Orthodontics are still here in the office, ready to answer any questions or concerns you might have. Conveniently located in Dunwoody, our experienced team are dedicated to helping you find your best smile. Whether you're a current patient or just looking for information on orthodontic treatment, we've got you covered. Keep cool this summer by contacting Kaplan Orthodontics at 770.458.5561 for all your orthodontic needs!