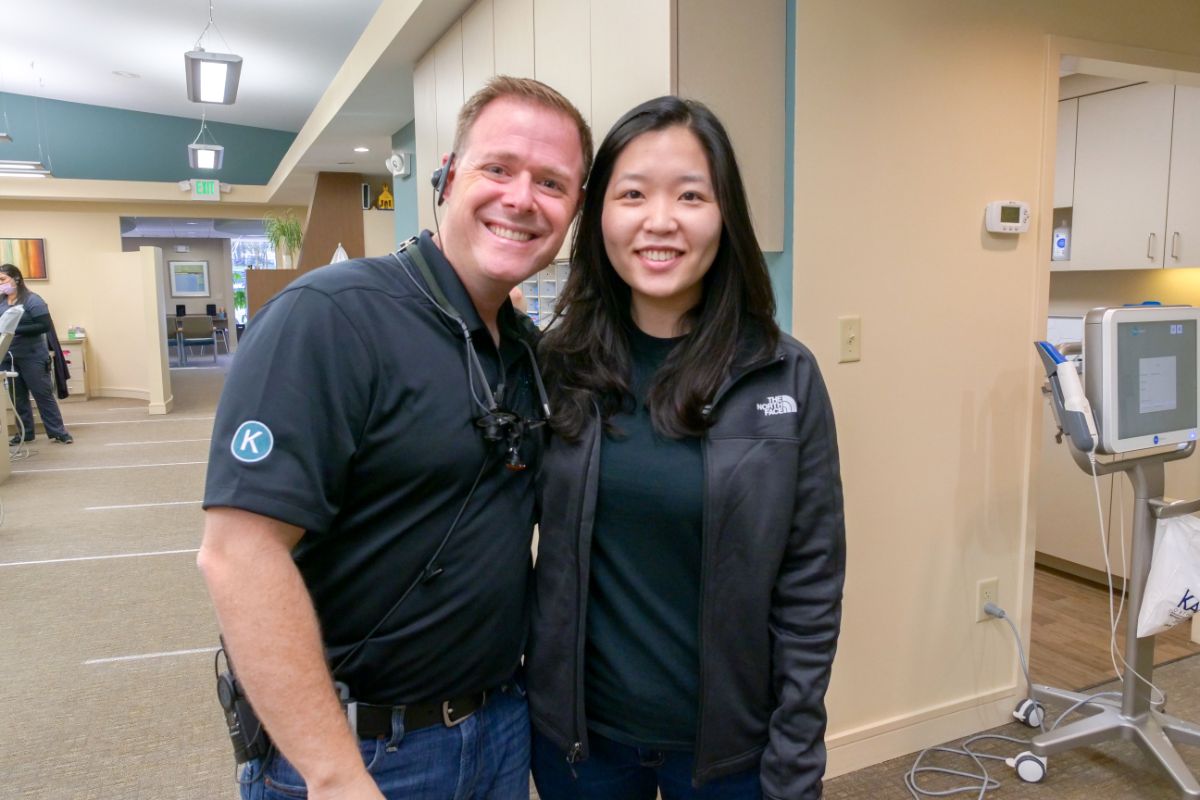 The Truth About Invisalign
Here at Kaplan Orthodontics, we don't believe in a "cookie cutter" approach to orthodontics. Each smile is unique, and we know that what works for one patient may not be successful for another. That's why we're proud to offer a variety of affordable treatment options to patients of all ages in Dunwoody and the surrounding communities! These include metal braces, clear braces, Invisalign, and Invisalign Teen. 
For patients who are looking for an alternative to traditional braces, Invisalign clear aligner therapy offers the same beautiful results with a little extra freedom and flexibility. But because braces have been around for many more years than Invisalign, this system can sometimes be seen as a "new kid" on the orthodontic block. This has led to a few misconceptions about how the aligners work, how effective Invisalign treatment is, and how much the system costs when compared to braces. Keep reading below to learn the truth about Invisalign!
What is Invisalign?
The Invisalign clear aligners we use today got their start in the late 90's, but similar trays had been popular for years as post-treatment retainers. The innovative software and technology gave orthodontists like Dr. Kaplan the opportunity to move misaligned teeth in stages using customized aligners instead of braces. 
In the beginning, Invisalign was used to treat mainly simple spacing issues or very mild crowding. As orthodontists became aware of its potential and the system became more popular, the design improved over time and Invisalign aligners can now be just as effective as braces at correcting many mild to moderate cases.

Truth #1: Invisalign treatment takes about the same amount of time as braces (and sometimes less!)
Orthodontic treatment of any kind requires compliance from the patient, but this is especially true with Invisalign aligners. Braces are affixed to the surface of the teeth, so a lot of the hard work is done without too much effort on the part of the patient. Aligners are a different story—because they are a removable appliance, patients are responsible for wearing them the recommended 20-22 hours a day throughout the treatment process. Aligners also need to be switched out every 1-2 weeks to keep up with the movements the teeth are making. If a patient doesn't hold up their end of the bargain, it can result in longer treatment times or subpar results.
Every case is different and each patient responds to treatment in their own way, so there's no "one size fits all" answer for how long a patient will need to be in braces or aligners. In general, however, the total treatment time for most Invisalign patients will be anywhere from 6 to 18 months. The best part? That's actually slightly faster than the average time spent in braces!
Truth #2: The cost of Invisalign treatment is comparable to braces
Like many new things entering the market, Invisalign was considered quite expensive at first. As the aligners became more popular and more accessible over the years, that cost has decreased. There are several factors to consider when it comes to the overall cost of orthodontic treatment, but today's aligners tend to cost just about the same as traditional braces on average.  
Kaplan Orthodontics is committed to providing our patients with high-quality orthodontic care that will work with every budget! We have a variety of payment options available for your convenience, and accept many major dental insurance plans as well. Our team will even check with your insurance company for orthodontic benefits and file the claims on your behalf!  
Truth #3: Invisalign offers patients a more flexible orthodontic experience
Thanks to their removability, Invisalign aligners come with a bit more freedom than traditional braces. Food restrictions are an excellent example. This can be one of the biggest learning curves with braces, since patients need to avoid any crunchy or chewy foods in order to protect their appliance. It can be frustrating to miss out on your favorite snacks and foods! Fortunately, you never need to worry about watching what you eat with Invisalign. You simply take the aligners out any time you want to eat, then put them back in again when you're done.
Removable aligners also make it easier to keep your teeth and gums clean throughout the treatment process. Effectively brushing and flossing with braces can take some practice, especially in the beginning. With Invisalign, aligners are removed before brushing and flossing exactly the same way you always have! Caring for the aligners themselves is a simple task, too. There are special kits designed to clean them, or you can gently brush them using toothpaste and a soft toothbrush.
Since Invisalign aligners can be removed for short periods of time, they're an excellent option for special events like games, concerts, prom, or weddings. 

Truth #4: Invisalign is an option for many patients (but not all patients)
We're clearly fans of all the benefits Invisalign has to offer, but it won't always be a good fit for every patient. In general, aligners tend to work best for teens and adults who have mild to moderate orthodontic issues. That's because complex or severe cases may require more precise tooth control than a removable aligner is able to achieve.
When you schedule your complimentary consultation with Dr. Kaplan, he'll be able to determine if Invisalign is a good fit for you, or if you'd be better served by a different treatment method. You can always trust us to recommend only the treatment method that will be best for your unique smile!
It's true! Invisalign and Kaplan Orthodontics can give you the confident smile you deserve
It's easy to see why Invisalign is the clear choice for straighter smiles for patients who want an alternative to braces. This exciting system continues to change the way people view orthodontic treatment, and we're proud to offer it to our patients! If you'd like to learn more about how Invisalign aligners can transform your smile, get in touch with us today to schedule your FREE consultation with Dr. Kaplan. Your best smile is waiting for you!